Upcoming and Current Events
The Court of Faerie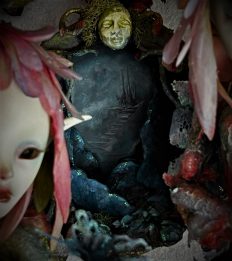 Three new works inspired by The Court of Faerie, featuring accompanying poems to intrigue and captivate.
The Court of Faerie
Opening Reception May 7, 2022 5-9 pm
The show runs through June 4, 2022.
House of Intention, Please Knock and The Musings will share the wall with eight other artists in this celebration of spring.
COPROGALLERY
2525 Michigan Avenue
Bergamot Station Arts Complex
Santa Monica, California 90404
You can preview my magickal creations that will be on display on the Shop (available) and Work pages of this website.
For pre-show purchase inquiries, please contact Copro Gallery by emailing coprogallery@live.com or calling 310-829-2156 or visit their website for more information.